Our frustration at the international community won't distract Yemenis from true democracy
By Wasim Alqershi
This commentary was published in The Guardian on 11/06/2011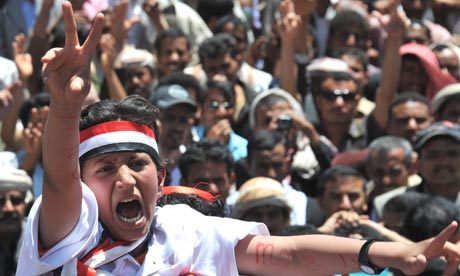 Yemen's popular youth revolution faced a unique set of circumstances among the contemporary revolutions of the Arab spring: a despotic regime; armed tribes; and an al-Qaida presence under the official auspices of the regime. But faced with all this, the
youth insisted on achieving a comprehensive transformation by peaceful means
. And millions of Yemenis responded to this invitation, descending on protest squares across the country.
The challenge of inviting the tribes of Yemen to join in with a revolution that was peaceful was significant; they represent a major segment of the population; and weapons are a part of their makeup. So when they began to pitch their tents in the squares, stripped of all weapons, it was a surprise and an indication of the desire by all Yemenis to move towards a modern democratic state.
Now, after spending 120 days in the squares, during which time we have suffered intense violence from President Saleh while the international community has spared him, no one has the right to condemn us for any step that we take. Because the world was only concerned with preventing civil war in Yemen, it allowed Saleh to continue his violence, despite him giving guarantees he would cease. Meanwhile, we were required to exercise self-restraint.
Safeguarding the peaceful nature of the revolution has become like grasping hot coals. Then Saleh's palace was bombed. It did not kill him, but lost him continuity as leader. The youth of the revolution believe Saleh is finished and that his presence in Saudi Arabia for treatment is to help the arrangement of post-Saleh conditions. It is also being used to get round our demands for radical changes, that the representatives of the regime be brought to trial, and that Yemen be ruled by a transitional presidential council committed to the goals of the revolution. However, the youth have the stronger card: the protests will not cease until all their demands are achieved.
Those who did not share in our sacrifice today will share our country with us. So the opposition political parties and the remains of the ruling party are to share the political authority, while the US controls the security services, and the Saudis are protected from the "revolutionary plague". Meanwhile, we are shot at by the remnants of Saleh's people, who America appears keen should remain in power. The US is ignoring the fact it may lose the co-operation of the Yemeni people in the fight against terrorism because the people hate those who stand at the head of the security forces – the same forces that killed hundreds of peaceful protesters.
Our young people felt optimistic about the international community but this has turned to frustration, as the community which claimed to stand for freedom, justice and democracy abandoned them to be killed without protection for the sake of these values. Rather than removing the cover of international legitimacy from the killers and freezing Saleh's assets, they gave him legal immunity.
These values could be mere slogans for western powers but the young people of the Yemeni revolution have demonstrated to the world true commitment to them. The youth opposed their country being seen only as an economic burden or a refuge for terrorism. Our frustrations over the international community will not distract us from our beliefs. Rather it will teach us to follow them while acting in the interests of our country. Today that interest lies in building a modern civil democratic country with a robust economy and a just legal system which renounces violence and terrorism and extends the hand of peace to all the world