Despite recent clashes, North and South Sudan calculate they have more to gain from peaceful negotiation than another war
By Simon Tisdall
This commentary was published in The Guardian on 06/06/2011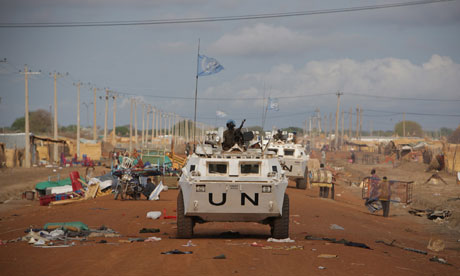 To the name of Darfur, a watchword for bloodshed and misery, may now potentially be added the less familiar names of
South Kordofan
, the
Nuba mountains
,
Abyei
, and Blue Nile. All these areas are to some extent disputed between Khartoum and Juba and, like South Sudan itself, face debilitating internal divisions. The nightmare now is that these numerous flashpoints could somehow fuse together to spark a third Sudanese civil war.
As usual, the northern government of President Omar al-Bashir is blamed for the deteriorating security situation by western governments and media. Last month's occupation of the Abyei border region by the Sudanese army, in which about 100 people reportedly died and up to 45,000 were sent fleeing, brought a sharp but familiar weekend rebuke from the UN security council.
Condemning what it called a "serious violation" of previous agreements, the council demanded that "Sudanese armed forces ensure an immediate halt to all looting, burning and illegal resettlement" and warned (rather hollowly in view of its ongoing failure to prosecute Bashir for alleged genocide in Darfur) that those breaking international law "will be held accountable".
The US-based
Enough Project
went further, saying it had seen satellite evidence suggesting northern troops had committed war crimes in Abyei, and had submitted it to the International Criminal Court. John Prendergast, co-founder of Enough, said governments had a duty to invoke the "responsibility to protect" doctrine applied elsewhere in Africa this year.
"Sudan's north-south and Darfur conflicts have produced more dead, wounded and displaced persons than Tunisia, Egypt, Libya and Ivory Coast combined," Prendergast wrote in the Washington Post. "How long is the international community willing to tolerate this deadly dictator? [a reference to Bashir] ... We must proceed before Abyei ignites the next Darfur."
Bashir is also catching flak for clashes, reviving this week, in the Nuba region of South Kordofan state, which is controlled by Khartoum and contains most of the north's oil reserves. The south's ruling party, the Sudan People's Liberation Movement, claimed Bashir's militia proxies, directed by the state governor Ahmed Haroun (another unapprehended Darfur war crimes indictee), were stoking Abyei-style tensions between pro-south Dinka Ngok tribespeople and northern Arab
Misseriya
nomads. Khartoum is also accused of backing tribal-based militias in Blue Nile state, further to the east, to pressure local, southern-allied armed groups that fought Khartoum during the civil war that ended in 2005.
To all these many charges, Bashir resolutely pleads not guilty – and he has a case. Khartoum maintains the latest trouble in Abyei began when northern troops came under attack from southern forces, a claim supported by the UN. It describes the occupation as a temporary arrangement, pending a resolution of its status. Khartoum has proposed a rotating administration in Abyei, with a joint committee taking control before independence day on 9 July. It has also suggested a demilitarised zone along the length of the common border.
"We were able to arrive at an agreement to end the war that started in 1955 and so there should be no issue too difficult to solve through negotiations," Bashir said last week in comments undermining his ogre image. "It's better than we sit and discuss and consult. We want brotherly ties between the north and the south." Bashir made similar conciliatory noises when interviewed by the Guardian in April. Southern leaders have responded in kind, saying they do not want a fight. Talks on all these issues are ongoing.
Those in the west prophesying another civil war or a Darfur-style repeat genocide misunderstand what is happening – which is not a countdown to war but a negotiation. Abyei and similar disputes had become bargaining chips, said International Crisis Group analyst Zach Vertin in a recent briefing.
"Despite dangerously high rhetoric over the course of the last year, both north and south have calculated that the cost of a return to war far outweighed any potential gains," Vertin said. While both sides were endeavouring to attain the upper hand, they actually needed each other more than they would admit, especially if oil revenues, crucial to both, were to be maintained.
It is delicate balancing act – and Sudan is nothing if not volatile. It could yet go badly wrong.