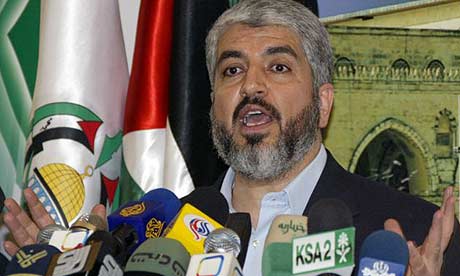 Hamas leader Khaled Meshal (Louai Beshara/AFP/Getty)
Gaza's Hamas rulers are quietly hoping that the Palestinian bid for UN membership fails, in the hope they can score some political points without a new split, analysts say. "If Abu Mazen fails, Hamas will be stronger than ever," political analyst Akram Atallah said, using the nom-de-guerre of Palestinian president Mahmud Abbas. "It's his last card," he said, adding that failure would end the prospect of peace negotiations with Israel - "to the benefit of Hamas". The Islamists wrenched control of the Gaza Strip from Abbas's secular Fatah movement in bloody fighting in June 2007. They oppose any concessions to Israel and ultimately seek an Islamic state in all of historical Palestine.
For them, Abbas' campaign for a state alongside Israel in the Gaza Strip and West Bank, including east Jerusalem, is nothing more than a sellout. Earlier this month, senior Hamas official Khalil Al-Hayya told Palestinian MPs in Gaza that the campaign should be seeking membership for a Palestinian state on all of "historical Palestine" - including areas now in Israel. "Hamas is betting on the failure of Abu Mazen at the UN because it thinks it will be a positive step for Hamas and because it has an interest in hastening the end of his rule," said Mukhaimer Abu Saada, a professor of political science at Gaza's Al-Azhar university.
Following years of bitter rivalry, Hamas and Fatah signed an unexpected reconciliation deal in May but it has yet to be fully implemented - and in the meantime, both sides are keen to avoid issues which could exacerbate tensions. On Monday, Hamas and Fatah agreed not to stage any demonstrations in Gaza over the demand for full UN membership for a Palestinian state. The two sides had "agreed to cancel any action or demonstration supporting or denouncing the recourse by Abu Mazen to the United Nations," a Hamas statement said, indicating the two factions had decided to "unify their positions" in Gaza to avoid any friction which could harm reconciliation efforts.
Although Hamas has pledged not to do anything to hinder the diplomatic efforts at the United Nations, the Islamist group says it was not consulted over Abbas' plans to seek membership for a Palestinian state on the lines which existed before the 1967 Six Day War. "There should have been a consensus on a unified national strategy rather than a solitary decision," said Ismail Radwan, another Hamas leader.
Last week, Hamas spokesman Sami Abu Zuhri said that statehood on Abbas' terms could weaken the case for Palestinian refugees to return to their former homes and also delegitimise armed opposition to the Israeli occupation. "(It) carries numerous risks and could violate national rights such as the right of return, the right of resistance and self-determination," he said. Hamas premier Ismail Haniya said on Sunday that the movement did not support the UN bid, arguing that no Palestinian leader had a mandate to sacrifice fundamental Palestinian rights.
But he also said Hamas favoured the establishment of a Palestinian state on any part of "historical Palestine" and not would seek to disrupt the attempt. "There is no mandate for any Palestinian leadership to infringe on Palestinian national rights, nor is there a mandate for any Palestinian actor to make historic concessions on Palestinian land or rights, foremost among them the right of return," he warned. But Hamas would "not place obstacles in the way of the establishment of a Palestinian state with full sovereignty," he added.
Analysts said the relatively moderate tone of the comments coming from Hamas was an attempt by the Islamists to leave themselves room for manoeuvre in the event that the UN campaign does result in progress for the Palestinian cause. "If Abu Mazen gets a state, that state shall be governed by the Palestinian political system, of which Hamas is a part," Atallah said. "That would be a political gain for Hamas and boost its legitimacy.
But success in New York could also work against the Islamist movement. "It would be a setback to Hamas since the project (led by Fatah's Abbas) would appear to be achieving better results than its own," he said. While Abbas would be able to take credit for statehood and international recognition, Hamas would simply be seen as being responsible for the blockade on Gaza which Israel imposed in June 2006 after militants snatched soldier Gilad Shalit in a cross-border raid. – AFP
This commentary was published in The Kuwait Times on 22/09/2011